A newly-opened apartment hotel, the history of which includes a significant current milestone – complete reconstruction and transformation into a modern mountain compound.
Hotel Palace is located in the very heart of the Giant Mountains, near the centre of Špindlerův Mlýn. The hotel room windows offer a view of the Medvědín and Svatý Petr ski resorts, which are less than a kilometre away from the hotel. Accommodation is provided in fully furnished apartments, and guests can enjoy a large wellness centre, a sunlit terrace and a restaurant.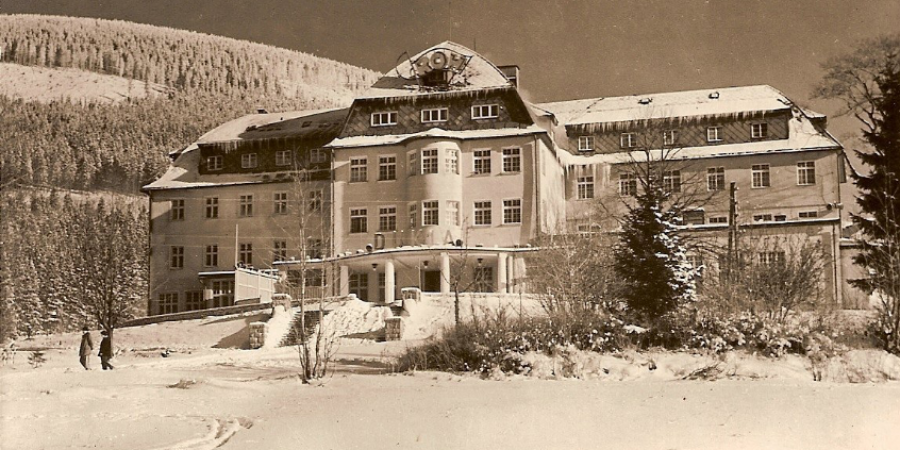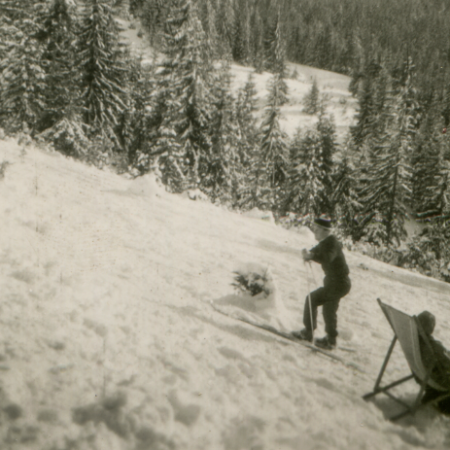 A hotel with a rich history
In the inter-war period, specifically in 1928, Fritz Plech had a huge building inspired by Art Deco and modern spa architecture built in the picturesque mountain town of Špindlerův Mlýn. It was built on the foundations of the former Svatý Petr Hotel, which was renamed Horský Hotel (the Mountain Hotel) after the First World War, and it is no coincidence that the new building was named Hotel Palace. Its appearance magically drew the attention of all passers-by, and in 1972, it was also chosen as a filming location by the highly regarded director Jaroslav Papoušek.
In a family comedy called "Homolka a tobolka", it appeared as a hotel called Radost (Joy), where several families came to spend their winter holidays. "It looks just like a palace", commented the main character of the Homolka family, played by Marie Motlová, when they arrived. "Of course, it does, grandma! They wouldn't send us to a shack for so much money," agreed Helena Růžičková. Other famous actors who appear in the film, such as Josef Šebánek, František Husák, Petr and Matěj Formans, and Iva Janžurová, could also tell us about the hotel's magnificence. At that time, however, it had already been renamed Rekreační dům Dukla.
Many years passed, and the building was given another new name. They called it Hotel Palace Club, a name that goes back to its roots. We will probably never find out whether the popular line about "a palace" appeared in the film by pure coincidence, or whether it was a deliberate move to remind viewers of the inter-war period and the hotel's origins. But thanks to its size, accommodation capacity and abundant hotel services, guests will certainly still feel like they are in a palace.
The year 2021 has given the newly renovated hotel building a touch of contemporary trends, including modern technologies, and has made it even more lucrative. We believe that it will continue to be a favourite retreat for many families who come to the renowned Czech mountain resort for relaxation and adventure.
In 2021, Hotel Palace underwent complete renovation work, making it one of the most modern mountain resorts in the country. The architects' intention was to carry out the reconstruction work as carefully as possible, and to preserve the hotel's original look and atmosphere as much as possible. The result is an elegant apartment hotel with a large wellness centre, a stylish restaurant, comfortable rooms and a sunlit terrace.
Recepce našeho hotelu funguje od 7:30 do 21:30 hod. Check in je možný od 14:00 hod., pokoje prosím opouštějte nejdéle do 10:00 hod. Využijte možnosti krytého parkování u hotelu pro auta i autobusy. V hotelu je k dispozici úschovna kol a lyží. Naše wellness centrum je otevřeno od 15:00 do 21:00.

Our hotel reception is open from 7:30 am to 9:30 pm. You can check in from 2 p.m. onwards, and rooms must be vacated by 10 a.m. when checking out Take advantage of the hotel's roofed car park for cars and buses. Bike and ski storage space is also available in the hotel. Our wellness centre is open from 3 to 9 p.m.

Grundlegende Informationen
Die Rezeption unseres Hotels ist von 7:30 Uhr bis 21:30 Uhr geöffnet. Das Check-in ist ab 14:00 Uhr möglich, bitte verlassen Sie das Zimmer nicht später als 10:00 Uhr. Nutzen Sie den überdachten Parkplatz des Hotels für Autos und Busse. Im Hotel steht ein Abstellraum für Fahrräder und Ski zur Verfügung. Unser Wellness-Center ist von 15:00 bis 21:00 Uhr geöffnet.

Zahlung mittels Gutscheine
Recepcja naszego hotelu jest otwarta od godziny 7:30 do 21:30. Zameldowanie możliwe jest od godziny 14:00, natomiast pokój należy opuścić najpóźniej do godziny 10:00. Zapraszamy do skorzystania z zadaszonego parkingu hotelowego dla samochodów osobowych i autobusów. Na miejscu jest dostępna przechowalnia rowerów i nart. Nasze SPA jest otwarte od godziny 15:00 do 21:00.

Płatność za pomocą voucherów